First, log into your account by going to https://exhibitors.eventscloud.com/login.aspx
If your account is connected to multiple events, you will need to select the correct event from the Events List. Click on the Event Name for the event you want to view.


Set up content in the Portal
Click on the Content tab on the top menu.
Click on the "Add Content" button to the left.
You will have the option to add content as an "Upload File" or "Add Internet Link". Click on the Content type you would like to add.
Upload File – Select the file, name the content, and add a description. (Description is optional)


Add Link – Enter the Link, name of the link and description. (Description is optional)
Category - There is the option to categorize the content that is being added. When assigning a category to content, this will sort the content within the app.
After adding either a File or Link, click on the blue "Create" button at the bottom.
Send content from the app
Screen shots below of using/sending content within the Stova Lead Capture App.
After scanning or manually adding a lead, when in the Contact information section for a lead, click on the Content button at the bottom of the screen. This will open the Content page.
At the top right you will see two icons

This will refresh the Content. Updates to Content done in Portal will appear within the app when clicking this icon.

This will auto select all content to send to the lead.



The gray headings are the Categories the content has been assigned. This is optional when creating content in Portal.



Send button – Once the content is selected click on the Send button.
When selecting Content to send to the lead. The selected content will appear highlighted in blue. If you need to unselect, simply click on the content again so this isn't highlighted in blue.
Once Content has been sent to the lead, a check mark will appear next to the Content.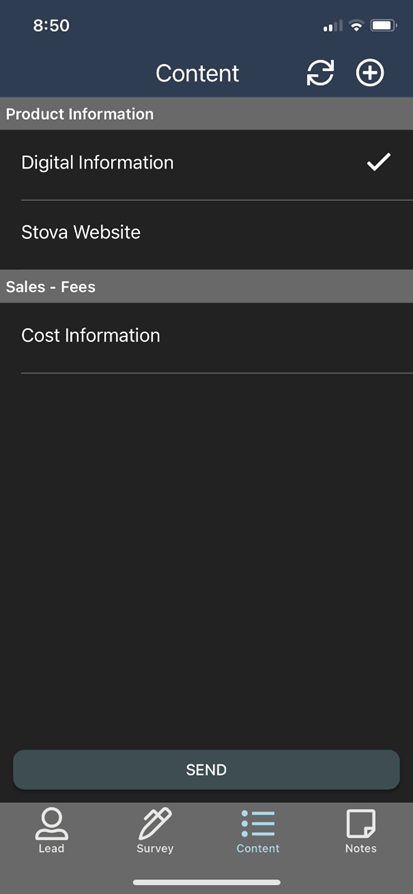 Example of email sent with Content. (Please note the email is sent from noreply@aes.aventri.com)